34 000 falne FN-soldater ble ikke funnet verdige til inkludering i Nobels Fredspris …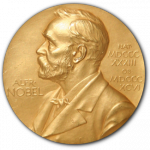 Koreakrigen med forfatteren David Halberstams ord:
"Den 25. juni 1950, krysset syv nordkoreanske divisjoner grensen til Sørkorea. Intensjonen var å erobre Sørkorea på tre uker. Den Sørkoreanske hæren var fullstendig uforberedt, og de eneste amerikanske styrkene i landet var en liten gruppe militære rådgivere. USA, under president Harry Truman – med godkjennelse av FNs sikkerhetsråd – besluttet raskt å bruke amerikanske og andre FN-lands styrker for å stoppe kommunistenes fremrykning i Korea, og overførte tropper fra Japan.
(Sikkerhetsrådets godkjennelse kom i stand fordi Sovjetunionen (av andre grunner) boycottet Sikkerhetsrådets møter på den tiden, og fikk dermed ikke gjort bruk av sitn vetorett – EN)
Harry Truman nedtonte konflikten for å unngå konfrontasjon med Sovjet. Derfor ble ikke konfikten kalt "krig", mem "FN politiaksjon". Korekrigen skulle komme til å vare i tre år, ikke tre uker, men selv om den kostet 34 000 FN-soldater livet, ble den ikke til en storkrig slik som den annen verdenskrig, heller ikke kom den til å bli, slik som Vietnamkrigen én generasjon senere, varig historisk splittende.»
Med mine ord:
Koreakrigen var en FN-operasjon under FN-flagg på samme måte som de senere aksjonene i Suez (1956) og Kongointervensjonen (1960). Vietnamkrigen derimot, liksom de to Golfkrigene, krigen i Afghanistan og Irakkrigen, var (er) USA-ledete operasjoner med internasjonal deltagelse men uten FN-godkjennelse.
Fredsprisen
Da industrimagnaten Alfred Nobel satte opp sine priser (som administreres av Svenska Aka­demin) skilte han ut Fredsprisen, og overlot tildelingen av den til Norges Storting. Stortinget oppnevner de fem medlemmene av Den Norske Nobelkomite, vanligvis tre tidligere politi­kere og to kulturpersonligheter.
Nobelkomiteens medlemmer i 1988 var: Egil Aarvik,(formann, Krf), Gidske Anderson, (Ap), Francis Sejersted, (H), Odvar Nordli,(Ap), Gunnar Stålsett, (Sp). I 1988 besluttet disse medlemmene av Nobelkomiteen å tildele Fredsprisen til "the United Nations Peacekeeping Forces", en avgjørelse som falt god jord hos de fleste, helt til sannheten kom frem i Egil Aarviks tildelingstale: Det viste seg der at teksten var omhyggelig formulert slik at FN-aksjonen i Korea i 1950-53 ble utelatt:
(Sitat:) "The original United Nations treaty does mention the possibility of military involvement on the part of the United Nations in the event of hostilities, but, because of the relationship between the great powers, it has never been possible to make use of this part of the treaty – the possible exception being the action in Korea in 1950.
… peace keeping operations were commenced in 1956 (…) in connection with the Suez crisis. The Security Coun­cil was unable to act because of a veto from two of the member states. This was solved by summoning the UN General Assembly to a special session, which passed the «Uniting for Peace» resolution that gives the United Nations' General Assem­bly the power to intervene in the event of the Security Council being unable to act. This resolution was used to deploy a peacekeeping force …" (Sitat slutt) (uthevelsene er gjort av meg – EN)
"The possible exception" er tilfeldigvis den eneste gangen FNs Sikkerhetsråd – FNs høy­este operasjonelle myndighet – har godkjent en militæraksjon slik FN-pakten tillot. Tilfeldigvis besto "the relationship between the great powers" på den tiden i at Sovjetunionen boykottet Sikkerhetsrådet, og dermed avskar seg selv fra å nedlegge veto.
Dermed valgte Nobelkomiteen i 1988, som startpunkt for "UN Peacekeeping Forces", en smart papirmanøvre fra 1956 som tillot omgåelse av Sikkerhetsrådet, fremfor Sikkerhets­rådets lovlige og rettfremme beslutning av 1950. Slik klarte Nobelkomiteen å holde utenfor Fredsprisen en legal FN-aksjon som kostet 34.000 (ikke-koreanske) FN-styrker livet.
En skamplett …
Eilif Ness