As recounted in previous posts in «Life on the High Seas» I spent the first years of my early youth in the merchant navy – just after WW2. Then, 15-year olds were allowed as deck boys, mess boys, galley boys, wipers etc. I served on various ships betwen 1946 and 1951. By the 1950ies, Norway's merchant fleet was the World's fourth largest, crewed by 35,000 seamen – 90% of then Norwegians.
Burial at sea
By 1949 I had come to serve on the 12,800 ton (dw) tanker "Trondheim" (Hjalmar Bjørge, owners). She was built at Eriksbergs in Gothenburg in 1939, with a 3600 hp two-stroke, double-acting Burmeister & Wain diesel engine.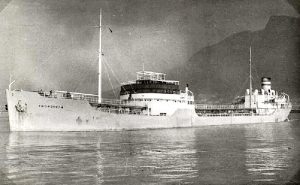 The «Trondheim" had an impressive war history: from 1941 to 1945 she served continuously in convoys between the US and the UK, carrying gasoline and kerosene, chalking up over 30 two-way trips across the pond, escaping unhurt. January 1946 she was returned to her owners and served them until 1952, when she was sold to Italy – she was scrapped in 1965.
At the time I served on her, we mostly plied between Abadan in the Persian Gulf and North European destinations, carrying light fuel oil. In August, however, we made a return trip Abadan-Aden: a 9-day trip each way. One of my 40 shipmates was an 18 year old mess boy – let me call him Kjell. 5 days out of Abadan he came to play the lead part of a four-act drama:
Act 1:
Kjell suddenly became ill. He developed high fever and became delirious. One thigh swelled up and became discoloured. The captain radioed a nearby Pakistani passenger ship out of Karachi, the Muhammadi Line's S/S "Al Ahmadi" (as I remember), who had a doctor on board. She made a short detour, and her doctor was put over to us in a launch.
Act 2:
The doctor (who was British) examined Kjell, who was unconscious – he quickly determined that it was too late – Kjell died an hour later. We were told (I cannot vouch for the veracity of this) that Kjell had lied about his diabetes (which would have prevented him from serving at sea), and that he had brought a supply of insulin and syringes, and that by accident, a needle had broken inside his thigh.
Act 3:
Our captain radioed Aden's harbour authorities (Aden was still British at the time) informing them that we had a corpse on board, to bury on shore. Aden authorities blankly refused – no corpse to be put ashore in Aden! So, it became a burial at sea – the only one I have experienced.
Act 4:
Kjell's body was sewn into a Norwegian flag with weights, and placed on a board on top of the lower deck railing. Engine stopped, the "Trondheim" drifted slowly in the long, lazy swells, there was just a waft of a breeze. We were at 18 N and 59 E, the Indian Ocean was intensely blue, the water crystal clear – depth is 3700 metres there.
We stood around in a semi circle, bare headed, the captain recited the Lord's Prayer, the board was tipped over, and Kjell disappeared into the clear, blue deep – flag and all. It was a solemn moment, one of those that etch into memory.
PS: Traditionally, the corpse should have been sewn into a weighted canvas shroud and the flag attached to the board, to remain on board. Making the arrangements, however, our carpenter didn't like that idea – he felt the boy was worth a flag. So did the captain.